Spoken English Institute Patel Nagar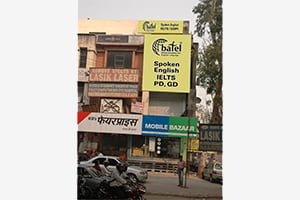 Why is it essential to learn English? You may already know the answer- it opens a plethora of job opportunities and businesses. Thus, now the question is how can one learn to speak better English? How much time does it take?
Learning a language is not as easy as it seems, it needs hard work, helpful supervision, and favorable environment. Being a nationally awarded English Training Institute in Patel Nagar, we help students in many ways to improve their English. Scroll down and find the most beneficial ones:
To qualify IELTS, OET, TOEFL, PTE
For Impressive Communication Skills
For being at the "helm-of-affairs"
To strive against odds
To gain confidence, at all levels
Why BAFEL Patel Nagar?
One of the oldest and renowned centres
Closely connected with the Metro station
Highly trained faculty
Students Referral Traffic due to effective trainings
Central Number
Central Customer Care (for Student Enquiries Phone call only):
For Enquires: +91-9212779992
For Business and Franchise Enquiries mail at ayush@bafel.co.in