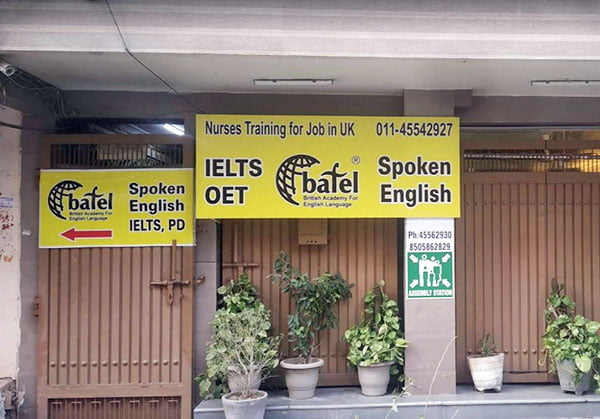 Learning English can be highly rewarding. If you are planning to work in English speaking countries, studying English is a must. Today, there are many institutions that offer English courses but BAFEL Dwarka Center has always been the best choice among learners. The British Academy for English language (BAFEL) in Dwarka helps you prepare and get the best grades in your OET, effortlessly.
English courses are the gate-way to local and international careers. Whether you are in Medical, Engineering or Banking industry, having a good grasp of English language gives you an upper hand.  Our courses cover several areas to prepare you for the real workplace environment. BAFEL Dwarka center offers you the right environment and experts to hand-hold you through the learning process. Our professionals are highly qualified with thorough knowledge on varios training tactics.
At BAFEL Dwarka, we help you elevate your confidence by continously imparting new skills. We tailor make your courses to meet your specific needs. We have trainers from different professional backgrounds and you will enjoy interacting and learning with them. Our core business is to enhance your overall communication skills and give you the right knowledge to fit well in any working environment. This is achieved through imparting new skills and a positive attitude towards your career goals.
Since English is our second language and over 98% of professions require English as an added communication advantage, we prepare you on real-time-basis for the real-world.We conveniently offer online coaching to reduce the time you commute from work or home to attend classes so it's not necessary for you to physically visit the centre.
Our courses include:
Spoken English Foundation
Spoken English Basic
Spoken English Advance
Spoken English Comprehensive
Customized Courses
Communication Skills/GD
Personality Development
Interview Techniques & Advance GD
Overseas Internship
IELTS/TOEFL/PTE
Voice & Accent
Creative Writing
Business English
Our services are recognized by experts from across the world. Our tutors, have over the years mastered, the art of helping candidates achieve their dreams. We do not only prepare individuals but we also guide them to emerge as future leaders.
You do not have to be stressed with your English skills anymore, BAFEL Dwarka Centre has what it takes to help you polish your English. You can enroll by talking to us today and begin your journey to a more rewarding career.
Few highlights of the centers:
Corporate office of the Academy
Holistic approach to training
Highly qualified and experienced trainers working under the Founder's guidance
IELTS specialized trainers with over 15 years of expertise
Closely connected with Gurgaon which is the hub for Corporates
Skype interviews of Overseas Internship students are conducted here
Audio-visual sessions through Projectors for better comprehending skills
BAFEL Dwarka Center
A-56, Palam Extension
Near Ramphal Chowk
Sector – 7, Dwarka, New Delhi
Phone : 011-45542927
Central Number
Central Customer Care (for Student Enquiries Phone call only):
For Enquires: +91-9212779992
For Business and Franchise Enquiries mail at ayush@bafel.co.in