About The Director – Alka Gupta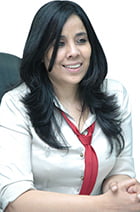 With an unmatched exhaustive training experience of over 20 years, Ms. Alka Gupta's name has become synonymous with Learning and Training. As the Managing Director, she is solely responsible for making BAFEL one of the leading training institutes in India. BAFEL as an institute tower above all competitors as an establishment set up with an objective to impart valuable training to aspirants from all strata of society.
Her close association with various Govt. bodies in different states help to empower the people of that area to earn their livelihood by undertaking various skill enhancement courses. Realizing the importance of English is a tool of message transmission, she has courageously imparted free education to all who needed it in the Naxalite infested areas.
Ms. Gupta who is also a mother holds the immense passion for the language & dreams to make the next generation a more confident lot. Having studied and experimented with all the distinctions and finer details of English language, she is well-equipped to train, manage and supervise a wide variety of learners. Her deep-rooted research on the language, body language, and para-language has now been shaped into various modules in different forms of courses at BAFEL.
Her Unique Connect
She easily connects with individuals from various backgrounds as she has traveled extensively, and interacted with people from all walks of life. The training modules have been crafted meticulously by BAFEL's R&D Wing under her guidance in-sync with individual needs of clients.
Her innumerable Corporate clients, including Foreign Embassies and High Commissions, have earned her accolades in India as well as abroad.
A powerful army of capable & efficient professionals who are working in the capacity of HR Managers, BDM's, a strong R&D Wing, a reliable Audit team, a supportive Admin staff, and last but not the least, a strong community of Corporate Trainers, has been her strongest & most precious creation.
BAFEL is now well on its way to empowering the Generation Y with skills which would enhance their personality and ensure that they are finely equipped to better their job prospects across industries.