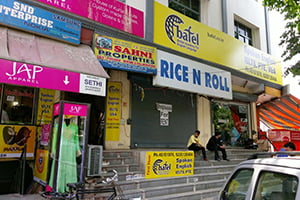 BAFEL Punjabi Bagh:
Is English hard to learn?  Does it involve years of practice? Does it cost a lot to learn it?
Well, we are here to answer all these questions for you. Come, visit us at our branch office in Punjabi Bagh and we would help you clear all such doubts. Our expert advice and counselling will help you take the right decision.
We, at BAFEL Punjabi Bagh assist you to learn English language in a speedy style. With years of expertise in this segment, we ensure individual success and growth, through all corners- writing, reading, speaking and more.
Why BAFEL Punjabi Bagh?
Located in the central part of West Delhi
Ventilated classrooms and fully equipped infrastructure
Highly professional faculty
Training sessions exclusively designed and customized to develop fluency among students
Unparalleled level of admin support
Active participation of students in speaking activities such as Extempore, Debates, Group Discussions, Flip-overs, etc.
Central Number
Central Customer Care (for Student Enquiries Phone call only):
For Enquires: +91-9212779992
For Business and Franchise Enquiries mail at ayush@bafel.co.in
(Online Classes only)