IELTS, Spoken English Institute Malviya Nagar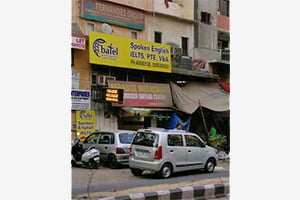 Are you tired of making embarrassing mistakes in English? Even after your hardwork you don't get to see the desierd results?
Come and join us at our Malviya Nagar Institute to achieve success against all such odds. Here you get to meet Trained Professionals with advanced amenities who can cater to individual needs through Effective Activities and well-researched curriculum.
Join BAFEL at Malviya Nagar, Delhi and be the part of the leading English Training Institute. This institute is recognized as the finest English Spoken Institute in this region, call us to know more.
Why BAFEL Malviya Nagar:
Student friendly environment
Modern methods of training i.e. audio-visual aids
Result oriented sessions
Dedicated and co-operative staff.
BAFEL Malviya Nagar
4A, Ground Floor, Shivalik Road,
Begumpur Park, Malviya Nagar, Opposite IDBI bank
New Delhi-110017
Email: info@bafel.co.in
Central Customer Care : 9319390795 , 9212779991