Spoken English Training in Kolkata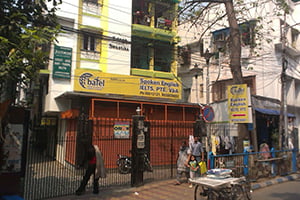 BAFEL is globally recognized and an awarded institute for English and Communication. Being the leading English Institute in India, BAFEL offers finest courses for different learners, in a different style.
The British Academy for English Language, BAFEL Hazra- Kolkata offers you numerous ways of learning including Classroom Training such as 'story- telling', 'explaining & describing', 'sharing insights' and more along with Interactive Sessions such as 'group- discussions', 'role- plays' 'Q&As' and more.
So, come to experience the amalgamation of these two learning protocols. And get advantage in a different style!
Why BAFEL HAZRA- Kolkata?
Special stress on preparation for IELTS examination
Exclusively designed study material and batches
BAFEL- certified trainers
E- learning
Virtual learning
Technology- led infrastructure
Central Number
Central Customer Care (for Student Enquiries Phone call only):
(Hindi): +91-8595798072
(English) +91-9212779991
For Business and Franchise Enquiries mail at ayush@bafel.co.in
(Online Classes only)