Best English Spoken Institute Ber Sarai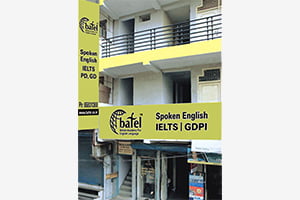 Whether you are a Doctor, an Engineer or an Entrepreneur, one thing that you would certainly understand in the course of your profession is that – if you have better command over a language like English, then you are easily able to achieve greater heights, at a rapid pace.
We, at Ber Sarai deal with every level of English learners. We have designed our course structure in different levels so that we teach our students according to their current knowledge of the language.
Being the most reliable English training Institute in Ber Sarai, we have measured common issues that an English Learner faces during the process of learning. Mention below are few such issues.
Vocabulary is the most important part of mastering a language. It lets you elaborate your idea more descriptively. We put significant amount of efforts to enhance the vocabulary of each learner. A better vocabulary is not accomplished by mugging or another such way rather, we make it interesting time and again. With various activities and games, we try to develop an interest in learning new words.
Poor English Speaking Skills
Even with their comprehensive knowledge of the language, most of our students are unable to speak English fluently. Here, we bring Personality Development Training into picture to help students speak without hesitation.
We welcome English learners to enhance their language skills and also those who are willing to qualify English examinations like IELTS, OET, TOEFL, and others. So, make your visit to this centre and enroll to free demo classes.
WHY BAFEL IN BER SARAI:
Company's second inaugurated branch
Located in Old JNU Complex which is the hub for college students
Excellent Learning Environment
A lot of Foreign students get trained here for specialized courses
Bafel certified trainers
Best Public Speaking Training Sessions
Ber Sarai (JNU)
62 First Floor, opp.
Old JNU Campus, DDA Market.,
Near Jawahar Book Depot.
Ber Sarai, New Delhi 110016
Email: info@bafel.co.in