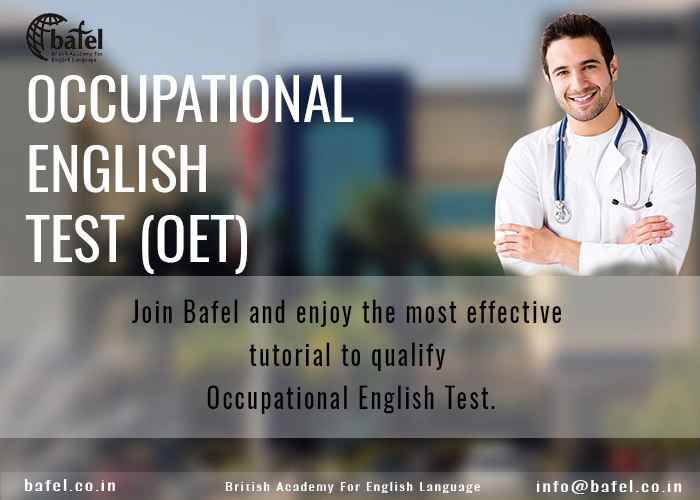 If one of the following defines your profession:
Dentist
Nursing
Medicine
Dietetics
Pharmacy
Podiatry
Physiotherapy
Speech Pathology
Veterinarian
Occupational therapy
Optometry
Radiography
Best OET Training Institute
And you are seeking to pursue your career abroad especially in Australia, New Zealand, and Singapore then you should be aware of the Occupational English Test.
Being an International English Test, OET is considered as a verification of the candidate's ability to communicate effectively in many organizations including hospitals and universities. Moreover, it is acclaimed by the Australian Department of Immigration and Border Protection for a visa.
We at BAFEL guide students to score better in Occupational English Test. We have designed our sessions to improve reading, writing, listening and speaking fluency of the students and make them eligible to qualify the examination.
With advent technologies, our classrooms are equipped with gadgets and tools that simplify the process of learning. We have dedicated staff for OET that not only have mastered in English language but also have better knowledge of health sector.
Why BAFEL for Occupational English Test Preparation
BAFEL is leading English Training Institute in India. With the decades of experience and unmatched quality, BAFEL is teaching finest English Language to Indians. The institute is integrated across the nation and making thousands of students to qualify OET and other International English Test.
When it comes to technology, BAFEL students are enjoying numerous perks of being a part of a prominent English institution. The classrooms are highly equipped with latest technologies to make learning interesting and entertaining.
Teachers at BAFEL are professionally and dedicatedly involved to teach students finest English. They have enlisted numerous activities that remarkably enhance the students' skills.
With a nationwide presence, BAFEL is a prominent and reliable name for English training institute. BAFEL has different strategies for different courses, for OET the institute enlists the professionals that have mastered in the OET examination.
Moreover, BAFEL also avails different technologies: they guide their students over the internet so that you can get better assistance and tuition. The teachers at BAFEL are internationally renowned for their guidance. They teach students from all over the world and make them eligible to qualify the test.
If you are looking for a reliable and helpful institution that guide you to succeed the Occupational English Test, then make a ring on 011- 64520777, 09212779991. We love to guide you.